Livres en anglais / autres langues
Alain Lenoir Mis à jour 21-Jui-2021
Adventures among Ants. Mark W. Moffett. Publisher Univ of California Press (2010), 288 p., ISBN : 0520945417
Ants of Britain and Europe. A photographic guide (2019). De Claude Lebas, Christophe Galkowski, Rumsaïs Blatrix, Philippe Wegnez, Tony Williams (Traducteur). 415 pages, 600 photos, Bloomsbury Publishing.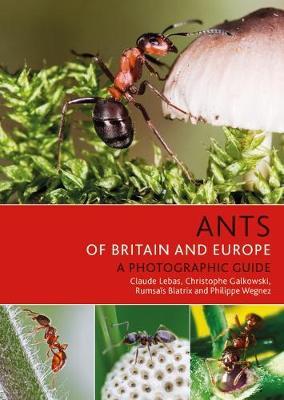 Un livre de photos sur les termites "660 Photographs of Termites and Their Control" de David Mora del Pozo, anglais-espagnol. Voir

analyse

par Thomas Chouvenc
Formigas em ambientes urbanos no Brasil. EDITORES Odair Correa Bueno | Ana Eugênia de Carvalho Campos | Maria Santina de Castro Morini
Les fourmis urbaines au Brésil. De nombreux auteurs. à télécharger sur internet
Studying Animal Languages Without Translation: An Insight from Ants. de Zhanna Reznikova (Novosibirsk), Springer 2017. 159$ (119$ en eBook) quel prix !!!
Hölldobler, B. and E. O. Wilson (2009). The superorganism. The beauty, elegance, and strangeness of insect societies. New York, London, Norton.