Nicolas Monmarché
Alain Lenoir Mis à jour 12-Oct-2019
Nicolas Monmarché, enseignant chercheur à l'école d'ingénieurs polytechnique de l'université de Tours, né en 1972.
Thèmes de recherche : Algorithmes biomimétiques (fourmis artificielles, algorithmes évolutionnaires). Applications dans le domaine du handicap.
- Interview septembre 2019
- Lauréat du 38e Prix Léonard-de-Vinci décerné par dix Rotary Clubs européens en 2012. Pdf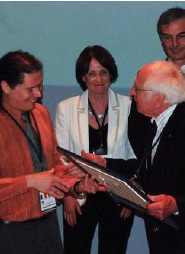 Des photos de Formica polyctena dans le bois de Chambray-les-Tours et de l'abeille noire de l'île de Groix attaquée par des frelons asiatiques.
Quelques publications
- Monmarché, Nicolas: Swarm art gallery: Virtual ant paintings. Leonardo, 47(1):8– 16, 2014. http://www.mitpressjournals.org/doi/abs/10.1162/LEON_a_00696# .VZPvY-te7EQ.
- Monmarché, Nicolas, Frédéric Guinand, and Patrick Siarry (editors): Artificial Ants: from collective intelligence to real life optimization and beyond. ISTE - Wiley, 2010.
- Monmarché, N. and A. Lenoir (2007). Des fourmis réelles aux fourmis atrificielles. 6ème journée CASCIMODOT, Tours 5 juillet 2007. Pdf
- Guéret, C., N. Monmarché and M. Slimane (2004). Ants can play music. 4th International workshop on Ant Colony Optimization and Swarm intelligence, Free University Bruxelles, 5-8 Sept. 2004.
- Aupetit, S., V. Bordeau, N. Monmarché, M. Slimane and G. Venturini (2003). Interactive evolution of ant paintings. IEEE Congress ion Evolutionary Computation, Australia.
- Labroche, N., F.-J. Richard, N. Monmarché, A. Lenoir and G. Venturini (2002). Modelling of the chemical recognition system of ants. Self-organization and evolution of social behavior, Monte Veritá, Ascona, Switzerland. Pdf
- Françoise, L., N. Monmarché and G. Venturini (2000). Vers un robot modélisant la perception visuelle des fourmis. Actes Coll. Insect. Soc. 13: 16-172. Pdf
- Monmarché, Nicolas, Gilles Venturini, and Mohamed Slimane: On how Pachycondyla apicalis ants suggest a new search algorithm. Future Generation Computer Systems, 16(8):937–946, 2000.