Fabrice Savarit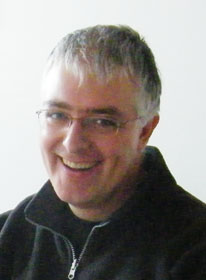 Alain Lenoir Mis à jour 14-Avr-2021
Maître de Conférences au LEEC (Villetaneuse Paris 13). A fait une thèse sur la drosophile (Ferveur et al 1997). Travaille sur les fourmis Ectatomma avec une parasite (Savarit et Fénéron 2014) et les signaux chimiques des mâles d'abeilles (Bastin et al 2017). A travaillé sur les bourdons (Alaux et al 2004). Voir Interview.
Sur France Culture le 16 septembre 2019 (Martin 2019). Visite au laboratoire avec les fourmis Ectatomma tuberculatum. Voir émissions radio
Voir
- Cédric Alaux, Fabrice Savarit, Pierre Jaisson, Abraham Hefetz, Does the queen win it all? Queen–worker conflict over male production in the bumblebee, Bombus terrestris, (2004), Naturwissenschaften, 91, 400-403
- Bastin, F., F. Savarit, G. Lafon and J.-C. Sandoz (2017). Age-specific olfactory attraction between Western honey bee drones (Apis mellifera) and its chemical basis. PLOS ONE 12: e0185949. 10.1371/journal.pone.0185949
- Jean-Francois Ferveur, Fabrice Savarit, Cahir J O'Kane, Gilles Sureau, Ralph J Greenspan, Jean-Marc Jallon, Genetic feminization of pheromones and its behavioral consequences in Drosophila males, (1997), Science, 276, 1555-1558
- Martin, N. (2019) Fourmis : une pour toutes et toutes pour unes. franceculture.fr, 16 septembre 2019, Pdf
- Savarit, F. and R. Fénéron (2014). Imperfect chemical mimicry explains the imperfect social integration of the inquiline ant Ectatomma parasiticum (Hymenoptera: Formicidae: Ectatomminae). Myrmecological News 20: 7-14.