UIEIS - Union Internationale pour l'Etude des Insectes Sociaux
IUSSI - International Union for the Study of Social Insects
Mis à jour le 23-Jui-2022
Voir Actes, Bulletins Intérieurs et colloques Section Française UIEIS et Divers congrès et bulletins de l'UIEIS internationale (IUSSI) (Lien)
Une nouvelle section de l'IUSSI : African Section qui fonctionne en deux langues (anglais et français). Une première réunion s'est tenue online le 22 juin 2022 sur la biodiversité des fourmis en Afrique du Sud (Dr Caswell Munyai, Université du KwaZulu-Natal). Voir IUSSI,

- 19ème Congrès International de l'IUSSI à San Diego, 3-7 juillet 2022.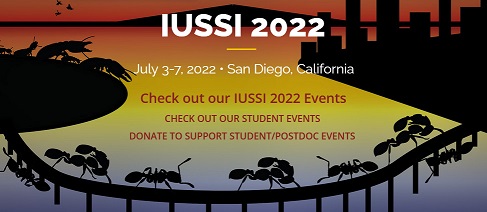 Les conférences pleinières : Raghavendra Gadagkar, Indian Institute of Science, Bangalore - Corrie Moreau, Cornell University -
Geraldine Wright, University of Oxford - Leticia Aviles, University of British Columbia - Peter Kofi Kwapong, University of Cape Coast, Ghana - Sylvia Cremer, The Institute of Science and Technology, Austria - Fabio Santos do Nascimento, Universidade de São Paulo, Ribeirão Preto, Brazil.
Quelques symposia organisés avec des francophones :
- What can we learn from simple insect societies? Abel Bernadou, Universität Regensburg; Romain Libbrecht, Johannes Gutenberg Universität Mainz.
- Sociable arthropods: Broadening conceptions about social insects. Joël Meunier, Université de Tours
- Advances in collective behavior using quantitative behavioral tools. Laurent Keller, Université de Lausanne
- Neurobiology of chemosensation. Patrizia d'Ettorre, Université Sorbonne Paris Nord
- The sensory ecology of social insect foraging. Patrizia d'Ettorre, Université Sorbonne Paris Nord
- The anthropogenic drivers of social insect invasions. Jérôme M. W. Gippet, Université de Lausanne; Cleo Bertelsmeier, Université de Lausanne
- Ecological and economic impacts of invasive social insects. Elena Angulo, Estación Biológica de Doñana, CSIC, Sevilla;
Franck Courchamp, Université Paris Saclay
- Nutritional dimensions in social insect evolution and ecology. Audrey Dussutour, Université de Toulouse